Praise and Worship Ministry:
Every Sabbath, we worship together with live music as a generation serving under the Savior.  The worship team wants to reach others through their music ministry.  Come and join us during our Divine Worship Service every Sabbath!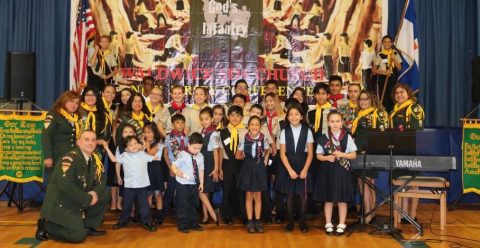 Pathfinder Club: 
God's Infantry, Waldwick Church's Pathfinder Club, is a church-centered spiritual-recreational-activity program designed for young people 10 to 15 years of age. Pathfindering appeals to this age group because its program features activities that meet their needs and interests.  One of its basic purposes is to also bring together parents and church members through active involvement with the club and its members.  Young people from 16 years and above, are welcome to join as TLTs (Teens in Leadership Training)! 
For more information about what the Pathfinder Club is all about visit: 
http://youth.adventist.org/Ministries/Pathfinders/tabid/54/Default.aspx
If interested in joining God's Infantry, contact our Pathfinder Director Luis Ramirez, Jr. for more information!
Adventurer Club:
God's Little Army, Waldwick's Church's Adventurer Club, is designed to strengthen parent-child relationships  for kids ages 4-9 by providing specialized weekly activities tuned into the psychological needs of this age group while simultaneously giving parents opportunities for learning parenting skills and enjoying special activities with their children. 
Each child is encouraged to participate in all activities and parents/guardians are given assignments along with their child. There are many age-challenging activities on the Adventurer menu. These range from games and outdoor activities to nature exploration and family camping, field trips and community service projects. A five level age-specific curriculum is used along with approximately 80 specialized award areas of crafts, nature, recreation, spiritual development and home arts.
For more information about what the Adventurer Club is all about visit: 
http://youth.adventist.org/Ministries/Adventurers
If interested in joining God's Little Army, contact our Adventurer Director Gianinna Ramirez for more information!